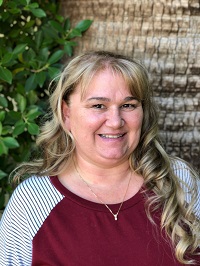 San Bernardino Probation Department
2022 Southern Chapter Secretary
Wendy began her career in Law Enforcement in 2001 with the San Bernardino County Probation Department. She has worked in several assignments in the department as well as served on several committees both in and outside of the department. Wendy's current assignment is with the Valley Multi-Enforcement Team (MET) in San Bernardino.
Wendy first attended a CCUG T4T training in 2015 and has attended Seminar every year since. This is Wendy's first year serving on the board and she looks forward to the exciting year ahead. Wend was elected as the Southern Chapter Secretary for 2020, 2021 and again for 2022.
Wendy is married with one daughter and one son and enjoys being with her family, travel and concerts.
Wendy looks forward to meeting new people and growing as a person.
Contact Wendy at (909) 386-1810 or e-mail her at wendy.villescas@prob.sbcounty.gov